Adjusting Quiz and Exam Attempts – Individuals
Target Audience: Teachers (Buzz LMS)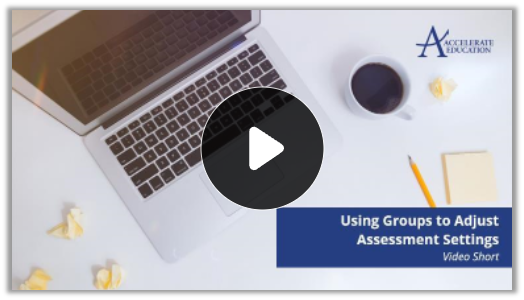 Follow the steps below to adjust the number of quiz or exam attempts for specific students.
Select the pencil (editor) icon associated with the course from your Teacher App homepage.
Create a group (if unsure how to create a group visit Creating Groups article first). It will open in a new tab so you do not lose your location here.
Select the

pencil icon

associated with the quiz or exam to be edited, once the desired group(s) are in place.
Select the group icon » choose the appropriate group from the menu. It is critical to select a group prior to adjusting any quiz/exam item.

Select the

Settings

tab.
Adjust the number of attempts and any additional assessment settings.



You are not done yet; the next step is critical to avoid students seeing the correct answer prior to any retake.

Scroll down on the settings tab until viewing the

Assessment review

section.
Change the last three review options to be either

When answered correctly

or Never.

Select Save.
Related Articles:
Creating Groups
Hiding Content – Individuals
Assigning Alternative Activities – Individuals