Submitting Online and Offline Assignments
Target Audience: Teachers (Buzz)
Written and audio assignments are an integral part of original credit courses. How students submit such assignments varies based on the following:
Grade level

K-5 students are more likely to need to submit handwritten worksheets and some audio assignments.
6-12 students are more likely to need to submit written work electronically saved to a PDF or document-based assignments.

Subject

Languages are more likely to require audio submissions.
Arts likely need to submit images of handcrafted samples.

Implementation & Devices

Using Accelerate Teachers – We always prefer students submit a file rather than link to a Google document. Why? This allows for students and teachers to see revision history not available via Google links. Students also struggle with allowing our teachers access to their school Google docs.
Device type can impact upload actions.

Apple devices – The built-in Buzz audio does not record when using Apple OS; however, students can use the built-in Voice Memo and upload that file instead.
Chromebooks – Students using Chromebooks do have the ability to use the built-in audio recorder, upload a physical file (vs. Google doc link), and work with PDFs , but this is not always understood.
Schools that supply specific devices to students should consider showing their students basic device usage.

Below is the video within each course Getting Started section. Time markers are included below to help locate specific upload needs.

Introduction about submission view (start – 1:11)
Attach file (1:11 – 1:42)
Google Drive preferred method (1:42 -2:40)
Handwritten work (2:40 – 5:09)
Audio or video (5:10 – 6:31) Students on an Apple device do need to use alternative methods. We suggest the built-in Voice memo on their device.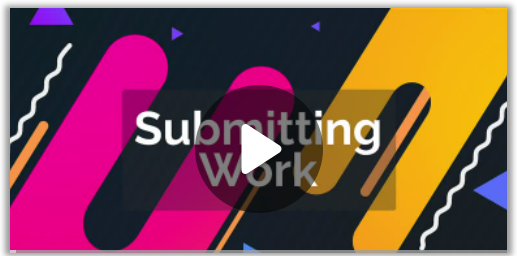 If you prefer written documentation for submitting offline worksheets or projects, select the image below.