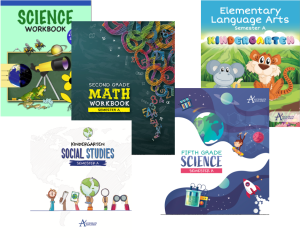 Accelerate Education is now accepting workbook orders for SY22-23! Fall workbook orders will begin shipping on July 1st.
There are a number of notable changes to our workbook order process for this year. Highlights include the following:
Accelerate is working with a new Memphis-based fulfillment partner, Mimeo, for SY22-23. With Mimeo, schools will experience a streamlined order process with specific improvement in overall fulfillment timelines.
Schools should anticipate this change in partners will be reflected on any shipping labels, packing slips, and email confirmations associated with their workbook orders. Schools are encouraged to alert stakeholders about this change.
Accelerate has published a new, consolidated order form that schools can use to place both bulk (shipped to school) and batch (shipped direct to students) orders. Previously these orders needed to be separated onto different order templates.
Authorized individuals may upload completed orders directly via our online submission form for faster processing.
If a valid recipient email address is provided on the submitted order form, recipients will receive a confirmation email from help@mimeo.com when their order is shipped. This email will include the individual tracking number(s) and expected delivery date.
The previous Workbooks Online portal (www.getworkbooks.com) has been sunset. Beginning July 1, schools will have access to Mimeo's customer portal where they can query and export detailed order information for their program.
For more information on placing workbook orders, please refer to our K-5 Workbook Orders page. Available SY22-23 Workbook titles include the following:
| Workbook Title | ISBN |
| --- | --- |
| Language Arts 1 A | 978-1-63916-014-3 |
| Language Arts 1 B | 978-1-63916-015-0 |
| Language Arts 2 A | 978-1-63916-101-0 |
| Language Arts 2 B | 978-1-63916-121-8 |
| Language Arts 3 A | 978-1-63916-102-7 |
| Language Arts 3 B | 978-1-63916-019-8 |
| Language Arts 4 A | 978-1-63916-020-4 |
| Language Arts 4 B | 978-1-63916-021-1 |
| Language Arts 5 A | 978-1-63916-022-8 |
| Language Arts 5 B | 978-1-63916-023-5 |
| Language Arts K A | 978-1-63916-012-9 |
| Language Arts K B | 978-1-63916-013-6 |
| Math 1 A | 978-1-63916-097-6 |
| Math 1 B | 978-1-63916-112-6 |
| Math 2 A | 978-1-63916-098-3 |
| Math 2 B | 978-1-63916-123-2 |
| Math 3 A | 978-1-63916-109-6 |
| Math 3 B | 978-1-63916-116-4 |
| Math 4 A | 978-1-63916-099-0 |
| Math 4 B | 978-1-63916-009-9 |
| Math 5 A | 978-1-63916-100-3 |
| Math 5 B | 978-1-63916-124-9 |
| Math K A | 978-1-63916-096-9 |
| Math K B | 978-1-63916-122-5 |
| Workbook Title | ISBN |
| --- | --- |
| Science 1 A | 978-1-63916-108-9 |
| Science 1 B | 978-1-63916-120-1 |
| Science 2 A | 978-1-63916-104-1 |
| Science 2 B | 978-1-63916-125-6 |
| Science 3 A | 978-1-63916-105-8 |
| Science 3 B | 978-1-63916-126-3 |
| Science 4 A | 978-1-63916-044-0 |
| Science 4 B | 978-1-63916-045-7 |
| Science 5 A | 978-1-63916-106-5 |
| Science 5 B | 978-1-63916-047-1 |
| Science K A | 978-1-63916-036-5 |
| Science K B | 978-1-63916-037-2 |
| Social Studies 1 A | 978-1-63916-107-2 |
| Social Studies 1 B | 978-1-63916-117-1 |
| Social Studies 2 A | 978-1-63916-028-0 |
| Social Studies 2 B | 978-1-63916-029-7 |
| Social Studies 3 A | 978-1-63916-118-8 |
| Social Studies 3 B | 978-1-63916-119-5 |
| Social Studies 4 A | 978-1-63916-032-7 |
| Social Studies 4 B | 978-1-63916-033-4 |
| Social Studies 5 A | 978-1-63916-103-4 |
| Social Studies 5 B | 978-1-63916-127-0 |
| Social Studies K A | 978-1-63916-024-2 |
| Social Studies K B | 978-1-63916-025-9 |