Elementary Workbooks for SY23-24
May 24, 2023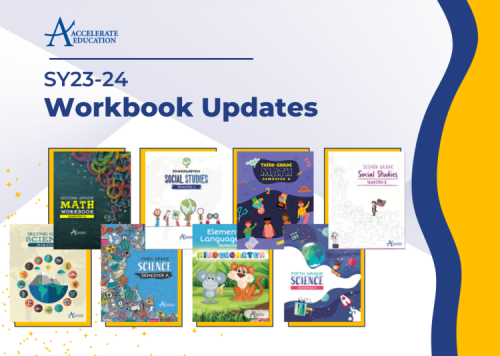 ---
Accelerate Education offers schools the opportunity to purchase optional print workbooks for students to accompany K – 5 core courses.
For SY23-24, Accelerate's workbook order process will remain unchanged. Schools will continue to submit orders via an online submission form and will have the option of having workbooks centrally delivered to a school location or shipped directly to individual student homes.
Schools should be aware that there are 8 workbooks being re-published for SY23-24 on account of new course releases. The updated workbooks include Science 2 A & B, Science 3 A & B, Social Studies 2 A & B, and Social Studies 3 A & B.
For information on the individual ISBN changes for the upcoming school year, please click on the image above to download Accelerate's full SY23-24 workbook list.
For information on how to place workbook orders and to access links to the order template and submission form, please refer to the K-5 Workbook Orders page in our knowledgebase.
Workbook orders for SY23-24 will begin shipping by July 1st.