Bulk Edit – Global Assessment Modifier (GAM) – Administrators
Target Audience: Administrators (Buzz)
Administrators have the authority to request global edits to default assessment settings. These requests reduce the number of edits teachers make individually within a course if the setting changes are associated with school-wide policies.
Domain Wide Changes
Domain-wide changes can be requested by the administrator of the school via our Global Assessment Modifier (GAM). They should not be requested by individual teachers. Common requests made via the GAM process:
Ungating of courses
Number of default attempts
Adding passwords to exams
Adding a password to the Participation folder

This should not be requested if using Accelerate Education teachers
Advantage of GAM Requests:
Often changes are requested across an entire domain.
Schools with program masters can request the changes be made to their program masters to reduce the number of times requests need to be submitted in the future.
Provides consistency to the student experience.
Reduces the time teachers spend making edits to courses.
Tips:
If not using program masters, a GAM request needs to be made every time a new section is created. If this is not completed, the new course will have the default course settings and not the settings requested across your domain. If changes were made to program masters, edits will already be in place when you create a course from that master.
If requesting extra attempts for quizzes or exams, always request the following Assessment review items be changed to either "when answered correctly" or "never":

Display correct questions
Display correct choices
Display feedback – (This is not related to teacher feedback, but to the built-in question feedback displayed.)

Review the impact of changes within our GAM Guide and Access document prior to requesting.
How to submit a GAM request: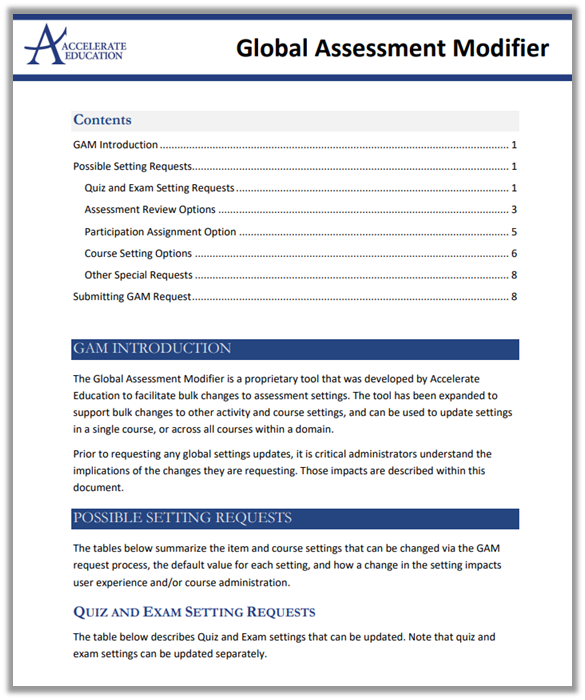 The request submission form can be found here.
Related Articles: